Pard DS35 70RF Night Vision Rifle Scope 5.6-11.2x 850nm | Airgunspares & The Countrystore Gunshop
Pard DS35 70RF Night Vision Rifle Scope 5.6-11.2x 850nm
UK DELIVERY ONLY
Export licensing laws prohibit delivery of this item outside the United Kingdom. Please DO NOT attempt to have this item sent abroad.
Pard DS35 70 Range Finding Night Vision Rifle Scope
Building on the massive success of the Pard NV008 range of night vision scopes, Pard have now launched the PARD DS35 line of day & night again revolutionising the night vision market.
Now taking the form of a traditional rifle scope, the DS35 has 800x800px round display screen, the first of its kind in a night vision rifle scope, providing the user the closest optical experience that you will get using a traditional day only scope.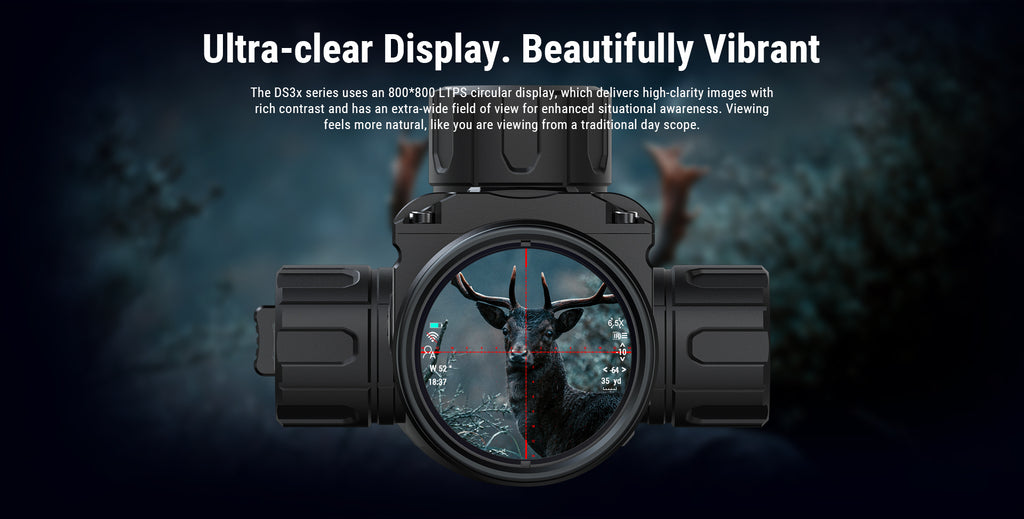 The DS35 70RF scope has a massive 70mm objective, gathering the most light that it can for the state of the art CMOS 0.0001 Lux 2K imaging sensor and providing the shooter with clear images, day or night. The 30mm aluminium alloy tube allows the use of normal scope mounts or the Pard manufactured weaver mounts that can be shimmed for extra elevation should it be needed.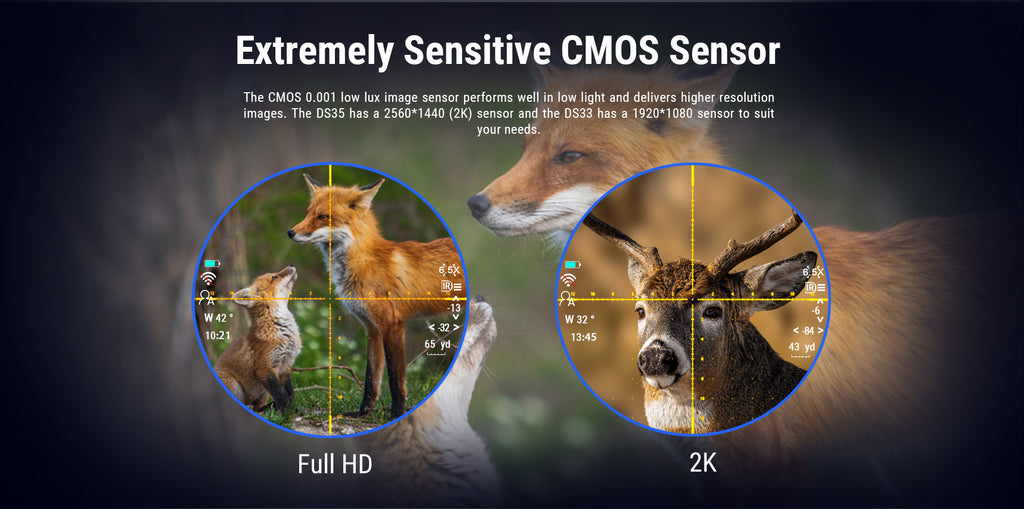 The built in adjustable IR illuminator provides up to 350m illumination (conditions and battery dependent), whilst the built in rangefinder can quickly measure distances up to 1000m / 1200yds (conditions and target size dependent) feeding the information to the inbuilt on screen ballistic calculator to provide the shooter an instant holdover, with no need to calculate it in your head.
The 5.6-11.2x magnification allows for clear target identification, with a one shot zero system making zeroing a simple task and not a chore. Adding to these already superb specifications, PARD have also equipped the DS35 range of scopes with built in WiFi, self activated recording, 4 image modes (colour, black and white, green and yellow) and 3 different reticle colours (white, yellow and green).
For Full Specifications See Below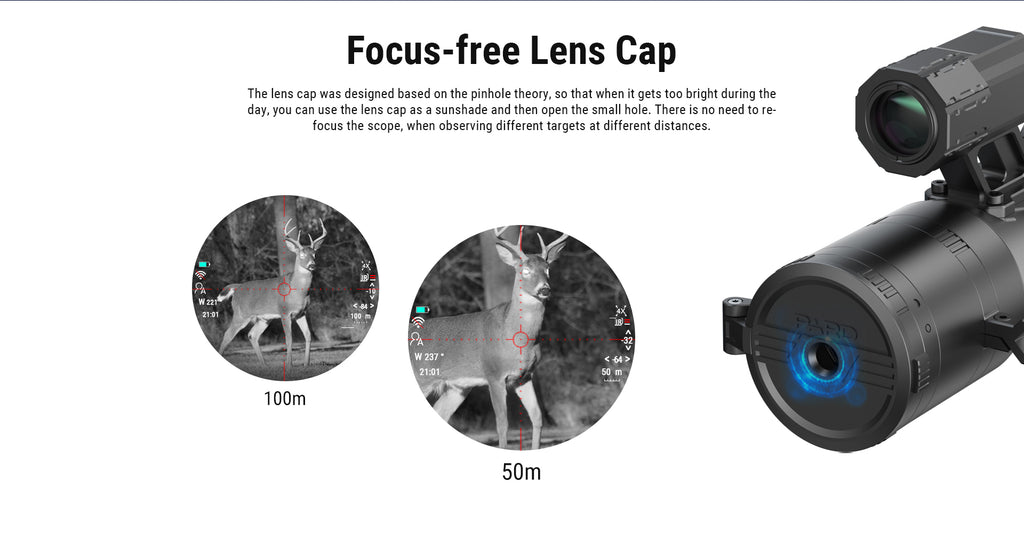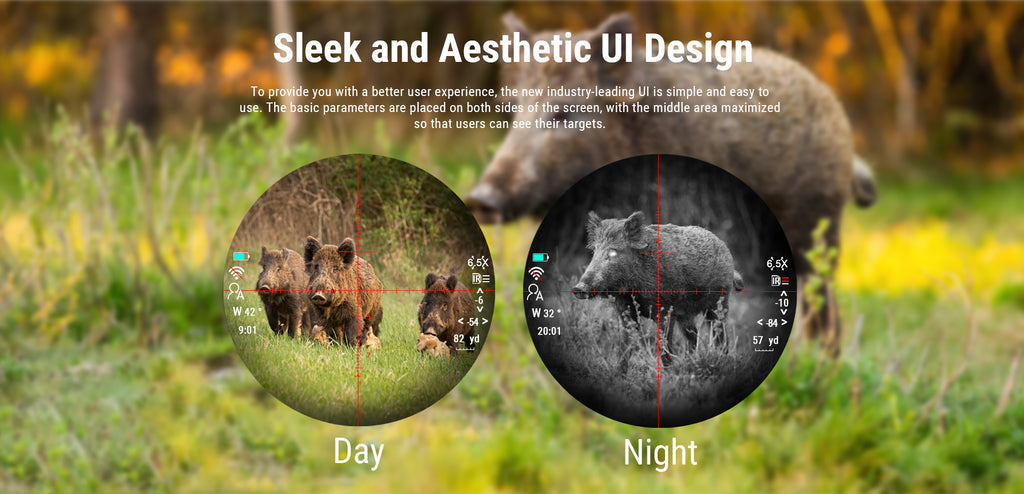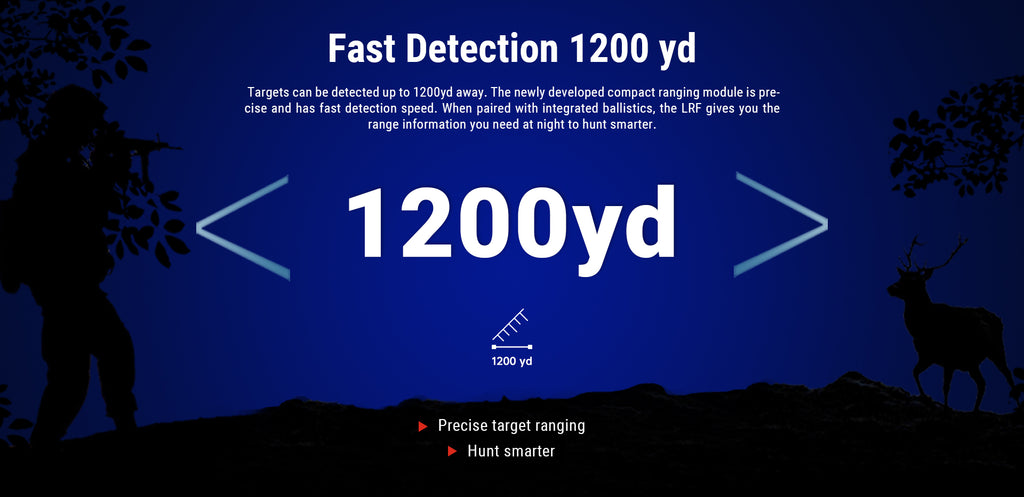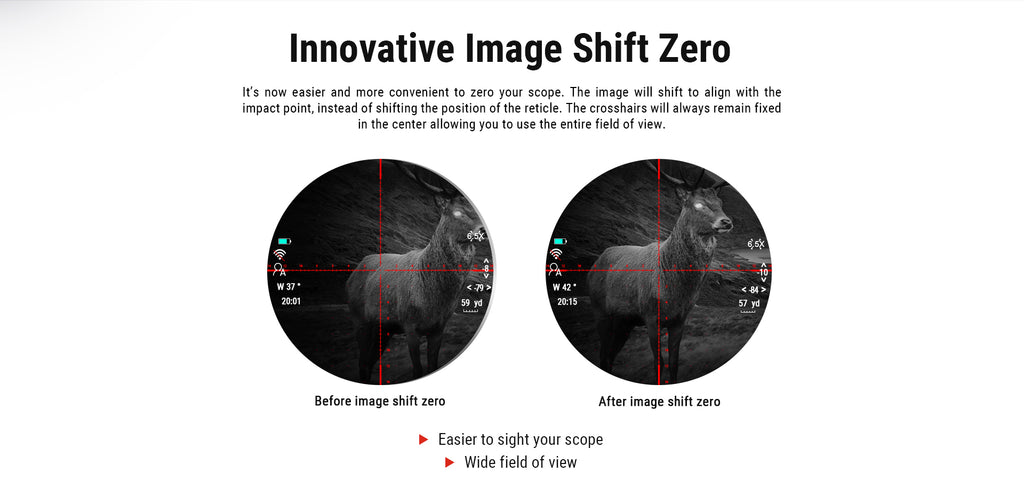 Specifications
 Sensor Resoloution (px)
 2560∗1440
 Pixel Size (um)
 2.9um
 Sensitivity (lux)
 0.001 lux
 Frame Rate (fps)
 30fps (night) 60fps (day)
 Image Engine
 Pard VLEA
 Objective Lens
 70mm F2.4
 Optical Magnification (x)
 5.6x
 Continuous Digital Zoom (x)
 5.6x-11.2x
 Focus Range
 5m -∞
 Eye Relief
 100mm
 Exit Pupil (mm)
 10mm
 IR Distance
 350m
 IR Wavelength
 850nm
 IR Illuminating Level
 3 Levels (Low , Medium & High)
 Display Resoloution
 800∗800
 Colour Mode
 Colour / Mono B&W / Mono Green / Mono Yellow
 Video Resolution
 1920∗1080
 Ballistic Calculator
 Yes
 Picture In Picture (PIP)
 Yes
 LRF Detection Range
 1000m / 1200yds
 WiFi
 Yes
 Supported Apps
 ppshow & roadcam
 TF-Card
 128GB (Max)
 Gyroscope
 Yes
 Self-motivated Recording
 Yes
 USB Type
 Type C
 HDMI Output
 Yes
 Recoil Power
 1000G (6000J)
 Battery Type
 Lithium Ion 18650 x 1
 Operating Time (Hours Max)
 8
 Waterproof
 IP67
 Dimensions

 L350mm x W88mm x H95mm (Wihout Rubber Eyepiece)

 L410mm x W88mm x H95mm (With Long Eyepiece)

 Weight

 680g (Without Battery)

 725g (With Battery)
UK DELIVERY ONLY
Export licensing laws prohibit delivery of this item outside the United Kingdom. Please DO NOT attempt to have this item sent abroad.
More Information

| | |
| --- | --- |
| Product Name | Pard DS35 70RF Night Vision Rifle Scope 5.6-11.2x 850nm |
RETURNS
Should you not be satisfied with goods correctly received, please ensure you return them within 10 days from the date of delivery. Provided goods are returned to us in their original condition, packaging, and with all labels still attached, we will refund the cost of the goods, minus a 20% restocking charge. The cost of postage will not be included unless good are received faulty, in which case we will issue a replacement, we will also refund the cost of postage.
DAMAGED GOODS OR GOODS LOST IN TRANSIT
When selecting our 'Unrecorded Delivery At Buyer's Risk', it means just that – the onus for non-delivery is held firmly with the buyer as John Knibbs International Ltd have no way of tracking or tracing the items once they have been collected from our premises. If this method of shipping is selected by the buyer, John Knibbs International Ltd will not be held responsible for any loss, damage or non-delivery of the purchased items.
It is ALWAYS safer to select the recorded delivery option for shipping to guarantee delivery of goods.
Please examine all packages prior to receipt as signatures are taken as proof of receipt in good condition. All damaged packages MUST be either refused or signed RECEIVED DAMAGED and in either case we must be advised of damage goods within three days of delivery.
CANCELLATION AND ALTERATION OF ORDERS
Orders may be cancelled or altered prior to despatch only. Once an order has been processed, goods must be cancelled/returned as per our Returns Policy.
Any work undertaken as a 'special order' cannot be cancelled or returned once work has commenced or order has been despatched.